Kentucky Emergency Appeal
The situation in KY has received a federal major disaster declaration.
ICNA Relief USA, Disaster Relief Services has been monitoring the developments in the wake of the flash flooding which has claimed over a dozen lives and damaged/destroyed hundreds of homes in Eastern KY. The numbers are expected to increase as search and rescue and damage assessment continues.
These are some of the items which have been requested by local officials. Our team will be delivering supplies as soon as the all clear is given for outside non governmental agencies to safely come in and help out.
You can also donate on our website at icnarelief.org/donate.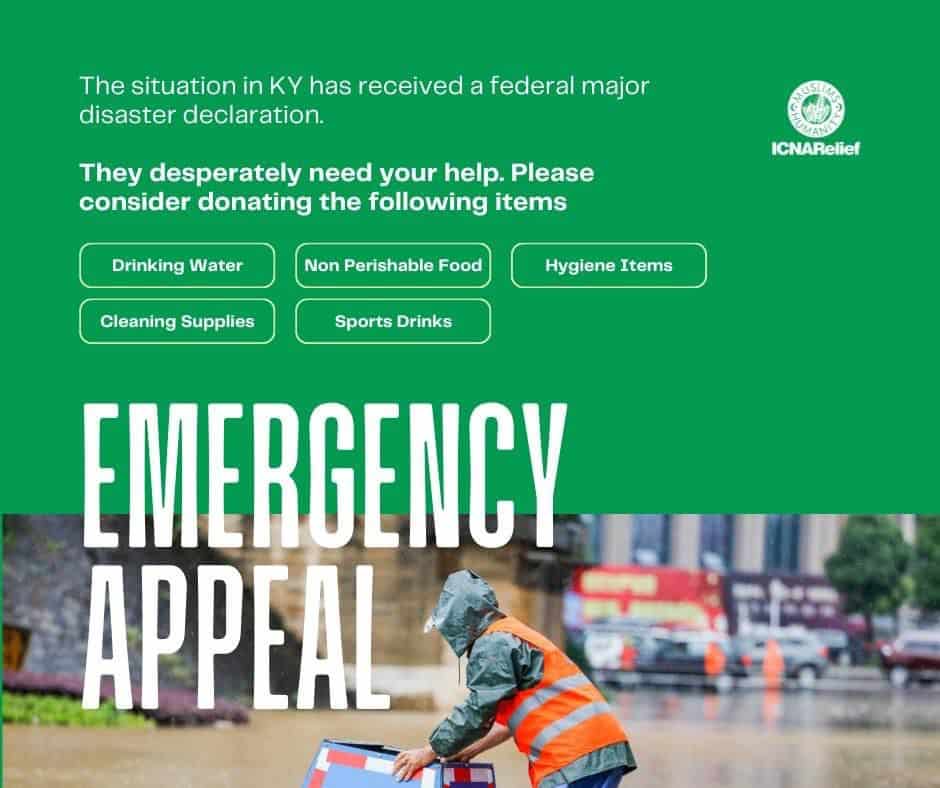 TEXAS WINSTER STORM ADVISORY
Starting tonight, February 2, 2022, a severe winter storm and winter freeze is in effect in Dallas, Texas, which will extend for a few days. Last year in February, a similar situation arose which led to almost 250 deaths. ICNA Relief is working alongside Dr. Omar Suleiman and the Muslim community, as well as local partners, to provide for our neighbors in need, during these days of vulnerability, especially for the homeless of the Dallas Fort Worth region.
We will be working alongside the city of Dallas, who will be providing an emergency shelter at the Convention Center, filled with cots. We need your help! Your generous support will help provide them with blankets, pillows, socks, jackets, funds, hot meals, and shelter.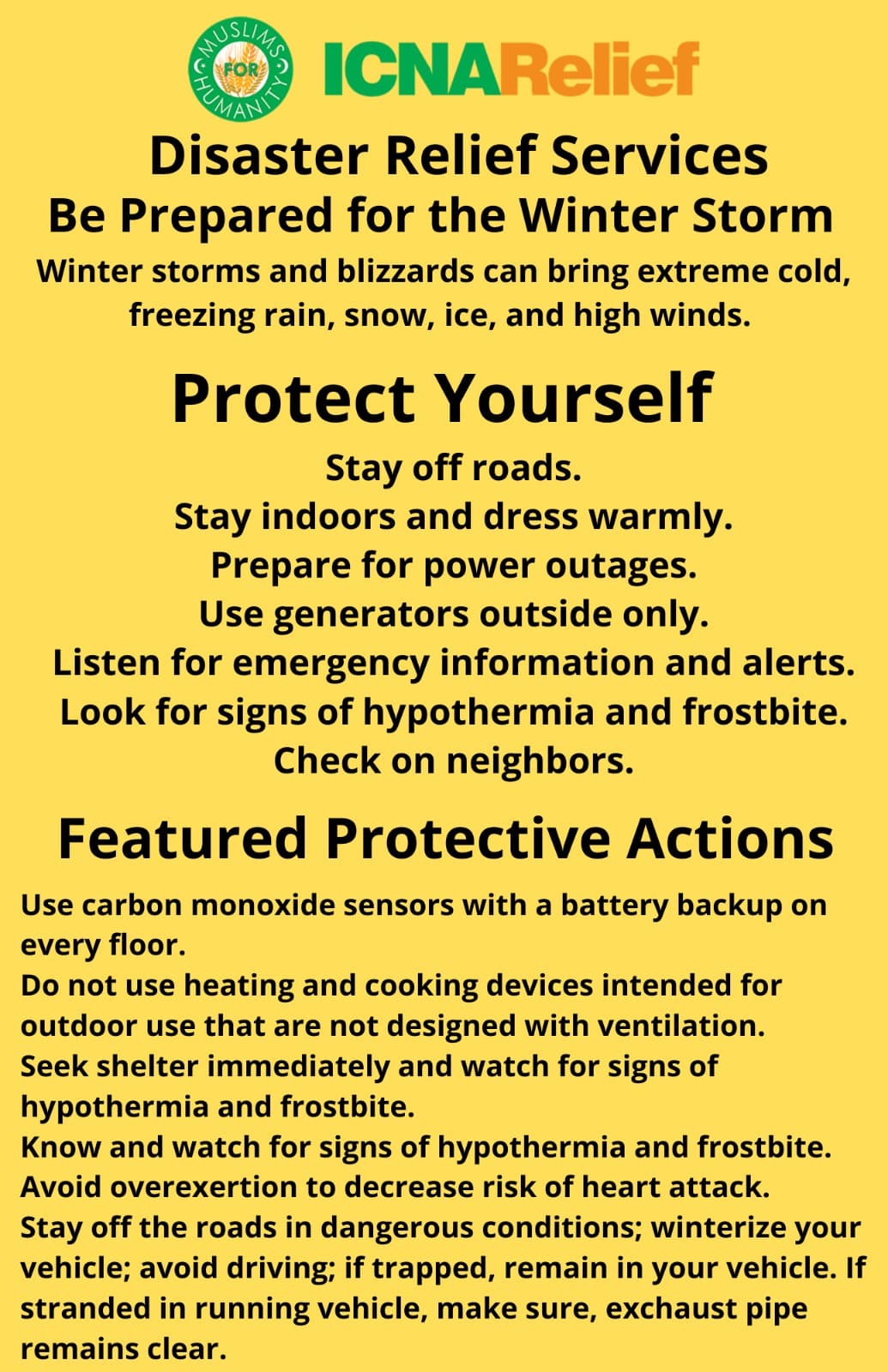 THE BRONX FIRES
COLORADO WILDFIRE URGENT UPDATES
According to news sources, at least 300 homes have been destroyed and thousands of residents have had to evacuate due to wildfires fueled by high winds (110mph) that began on Thursday morning in Boulder, Colorado. A state of emergency has been declared by the Governor and the damage is being compared to 2013 wildfires which were the most destructive in Colorado's history. ICNA Relief #disasterreliefservices is on the ground & working with @nationalvoad and @fema and mosque partners to assess damage and help locals in this time. Stay tuned for how you can help.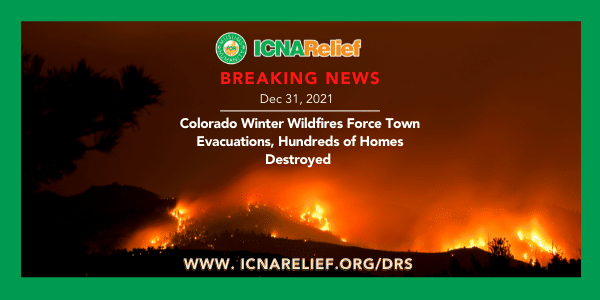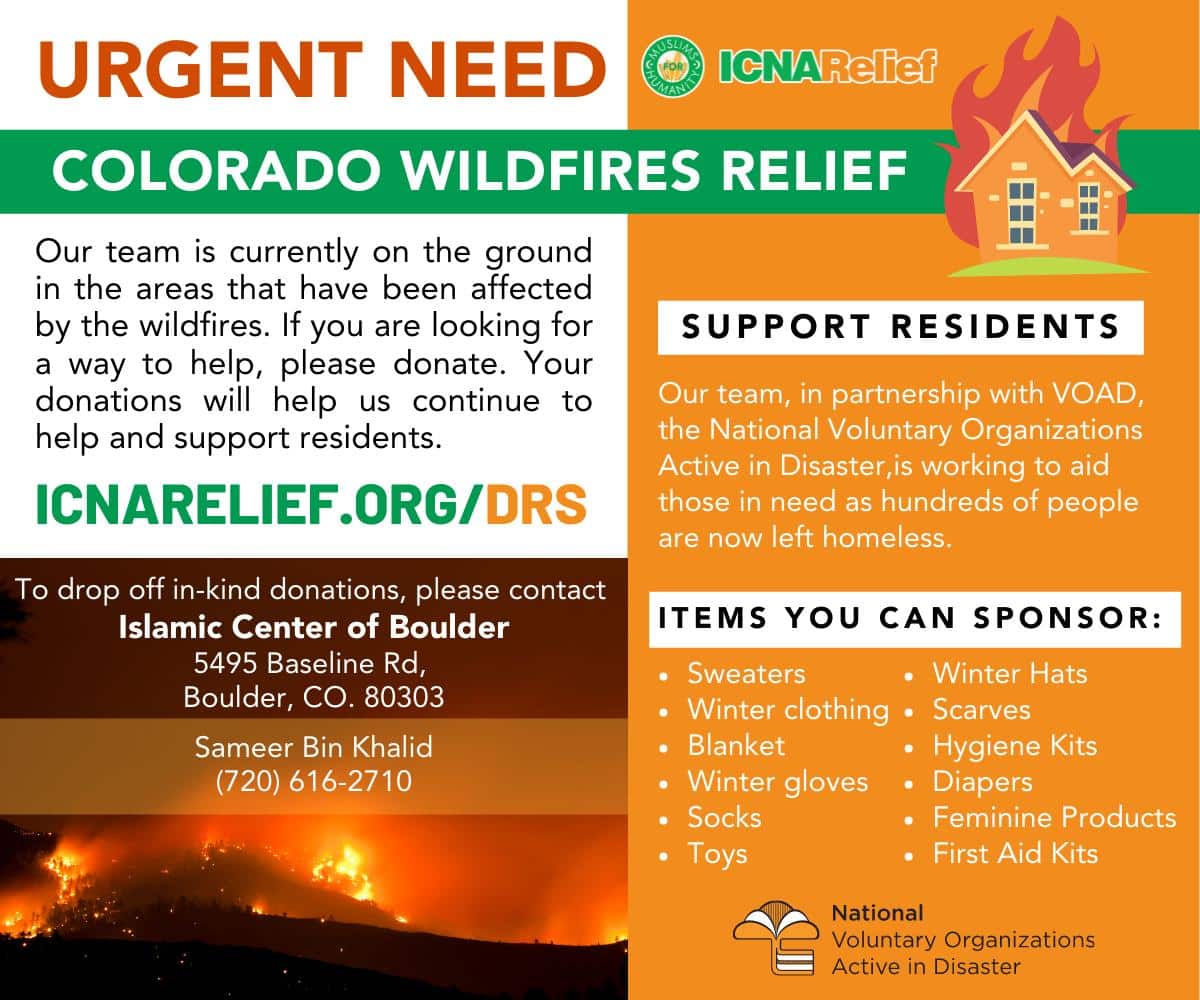 KENTUCkY TORNADO URGENT UPDATES
ICNA Relief is on the ground in Lyon County, Eddyville, KY. It is continuing to work hard in mobilizing and providing live updates after the devastating impact of the tornadoes in the Kentucky area. A majority of the response has comprised of chainsaw work on the removal of trees from homes, driveways, and entrances. Currently, the team is 46 miles from Mayfield, KY, and is scouting possible distribution sites for the items collected from Atlanta, GA, and Louisville, KY. They are also determining what type of assistance we can offer to provide relief to specific families who have been affected.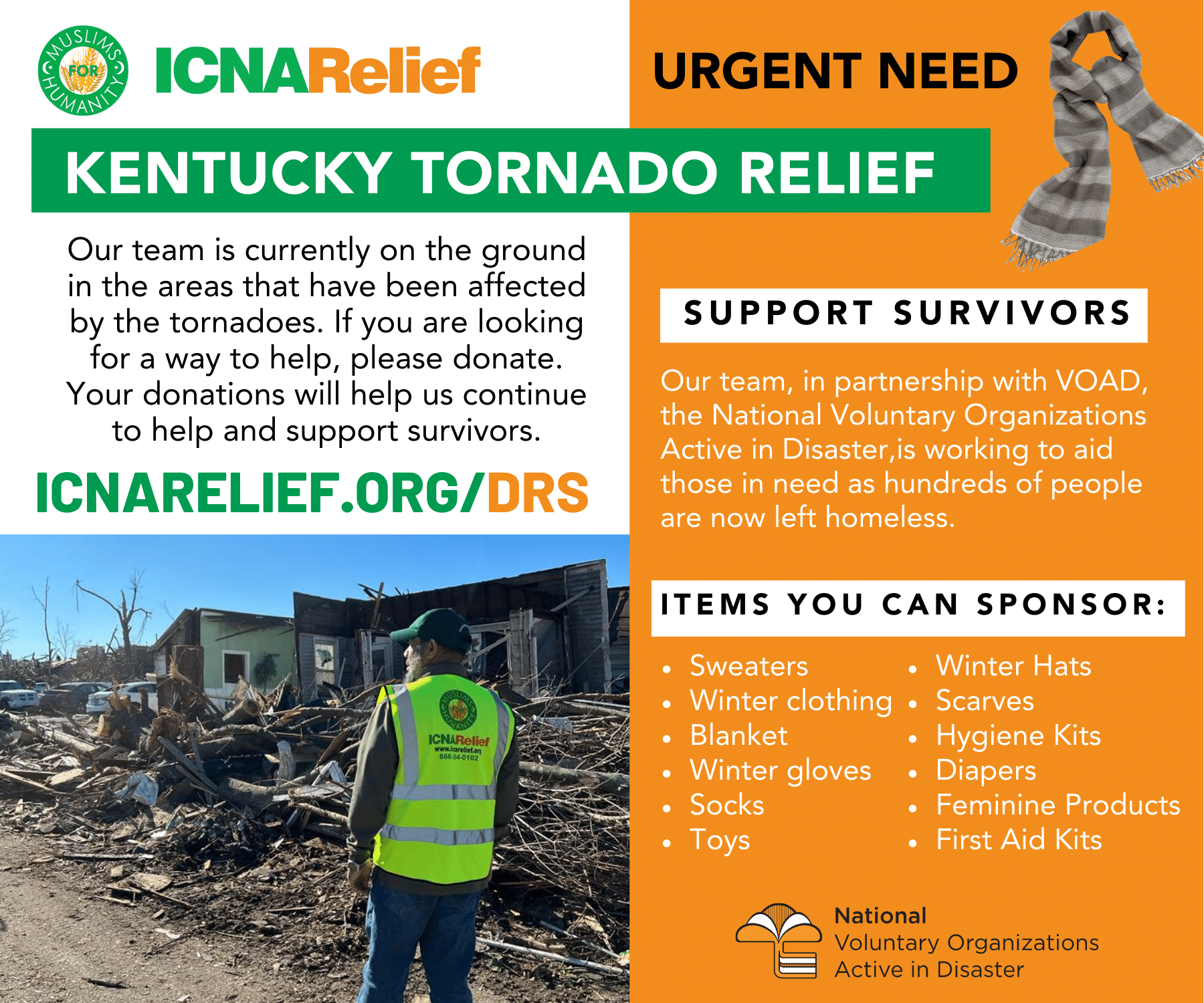 [/vc_column]
What do we do?
Disaster Response Services seeks to alleviate human suffering by providing caring, compassionate and practical assistance to survivors of natural and manmade disasters in the United States. We strive to accurately represent Islamic values and compassion serving humanity regardless of race, religion or culture.
Under the Islamic principle of helping the unfortunate in our communities through compassion and service, ICNA Relief USA represents Our Nation's Muslim Response to disasters. ICNA Relief USA supports all phases of disaster: Preparedness, Response, and Recovery. Including mitigation, advocacy, and community resiliency for the whole-community. We assist in training and networking, planning and deployment, long term case management, and rebuilding better and resilient communities while also advocating for the benefit of those impacted by disaster. This is ICNA Relief USA's Disaster Relief Services program. Please join and support our good intentions and good efforts.
IMPACT WE'VE MADE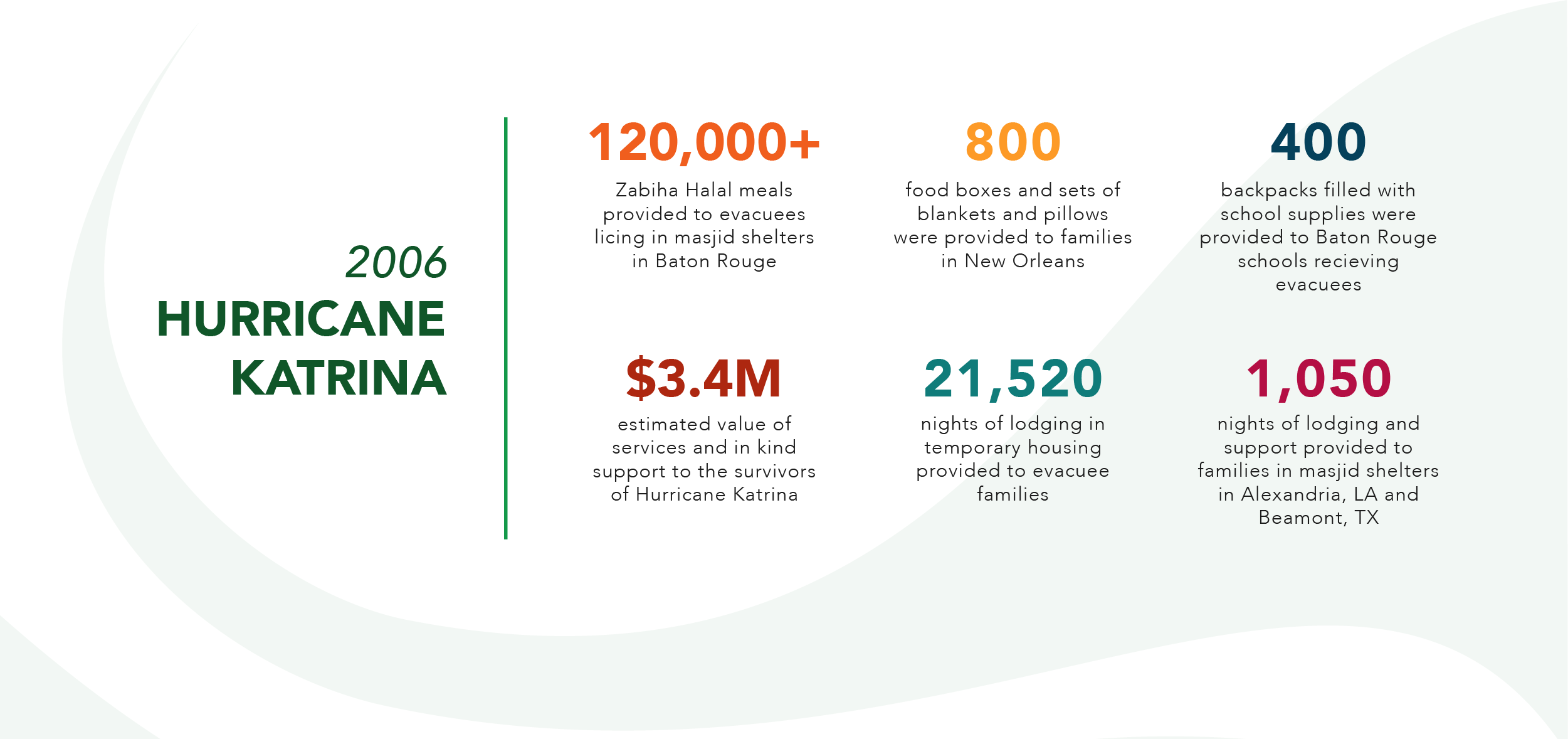 MEDIA GALLERY OF WHERE WE'VE BEEN
Recognition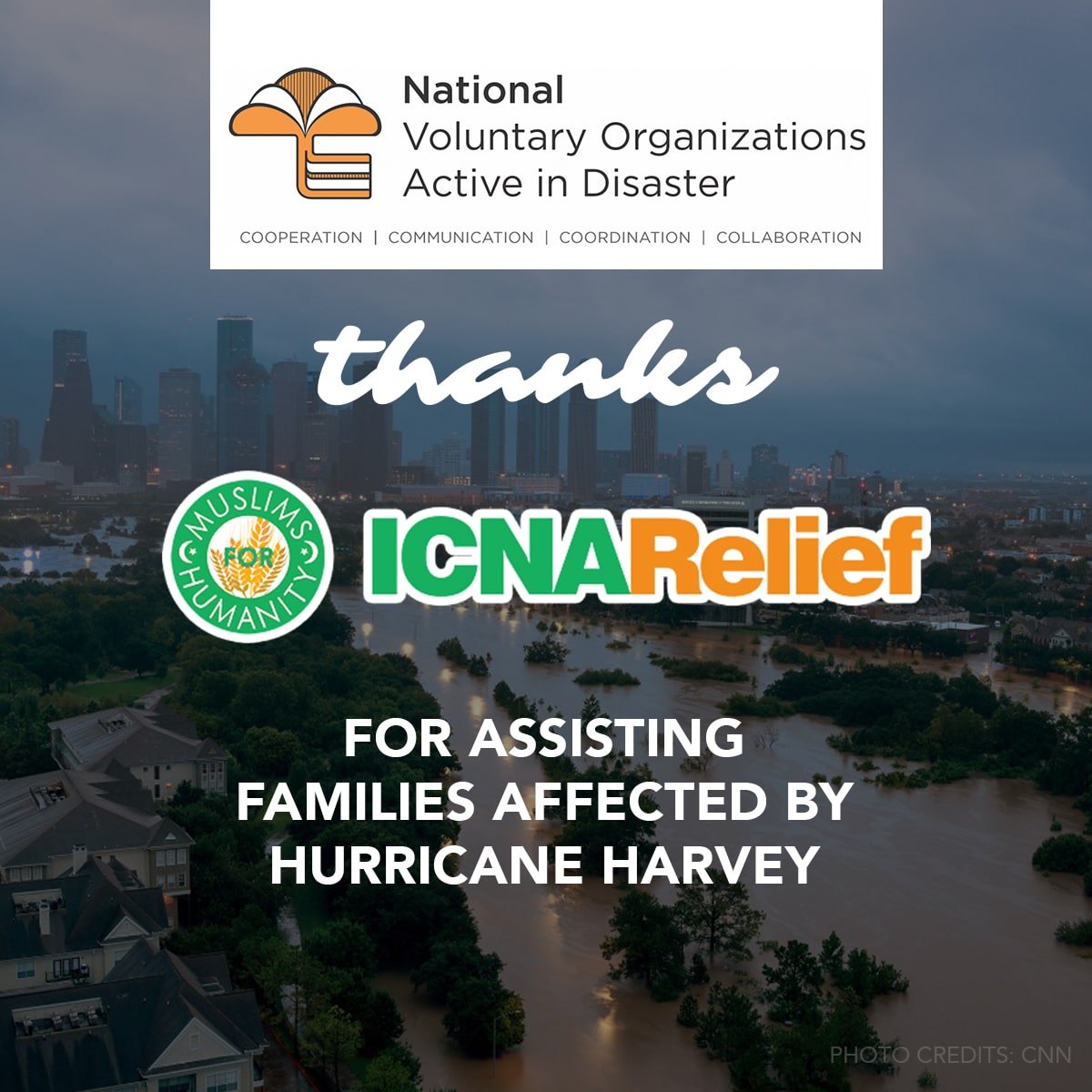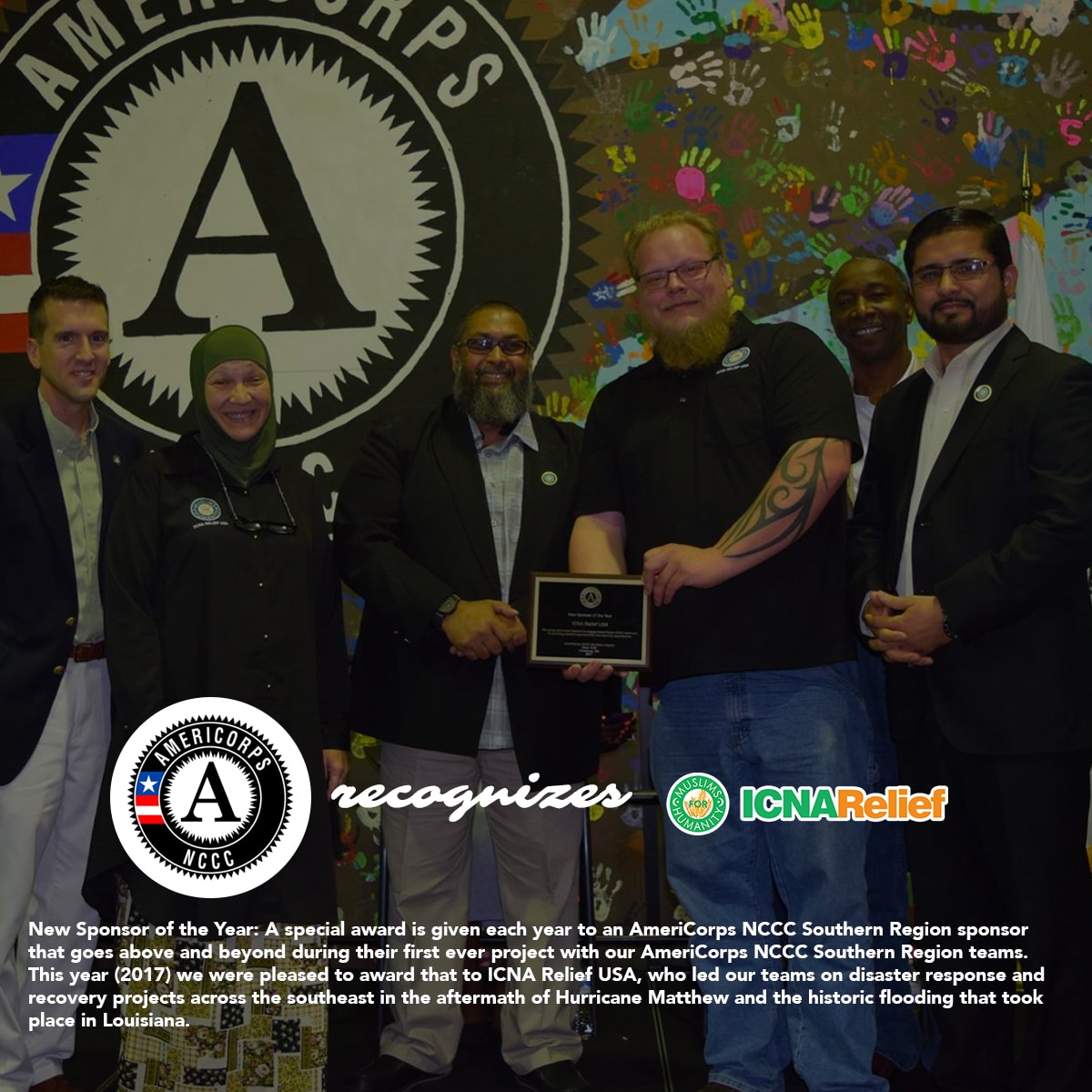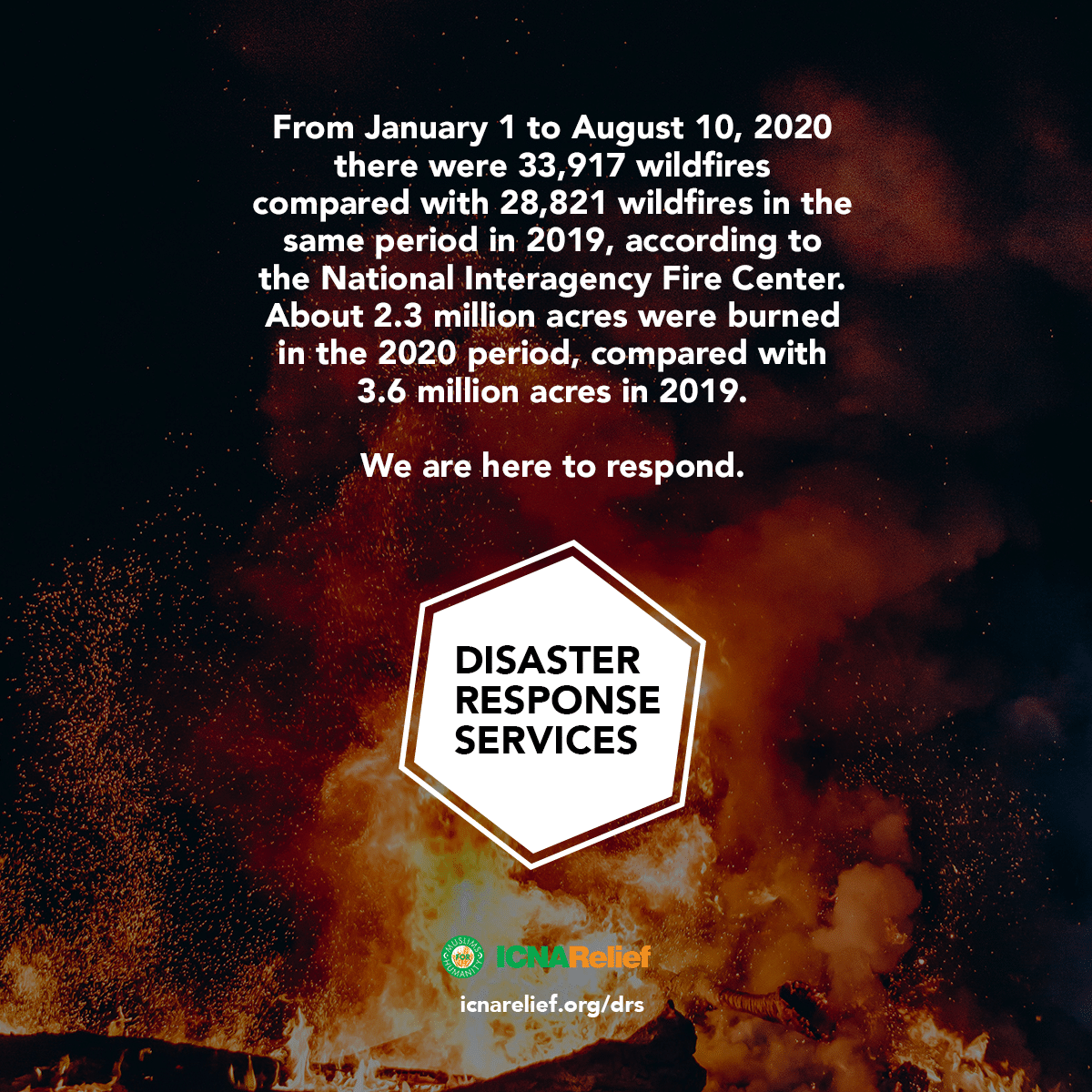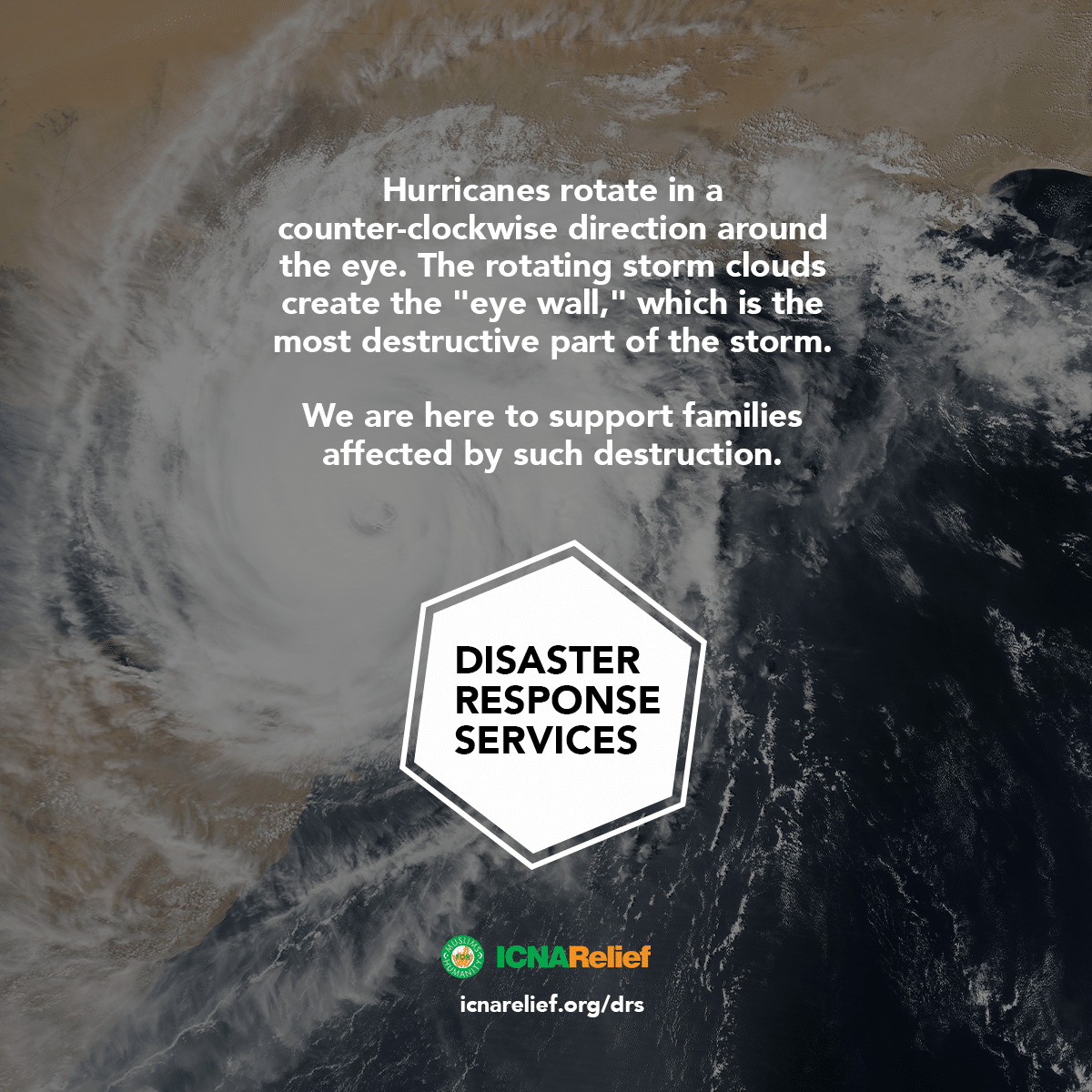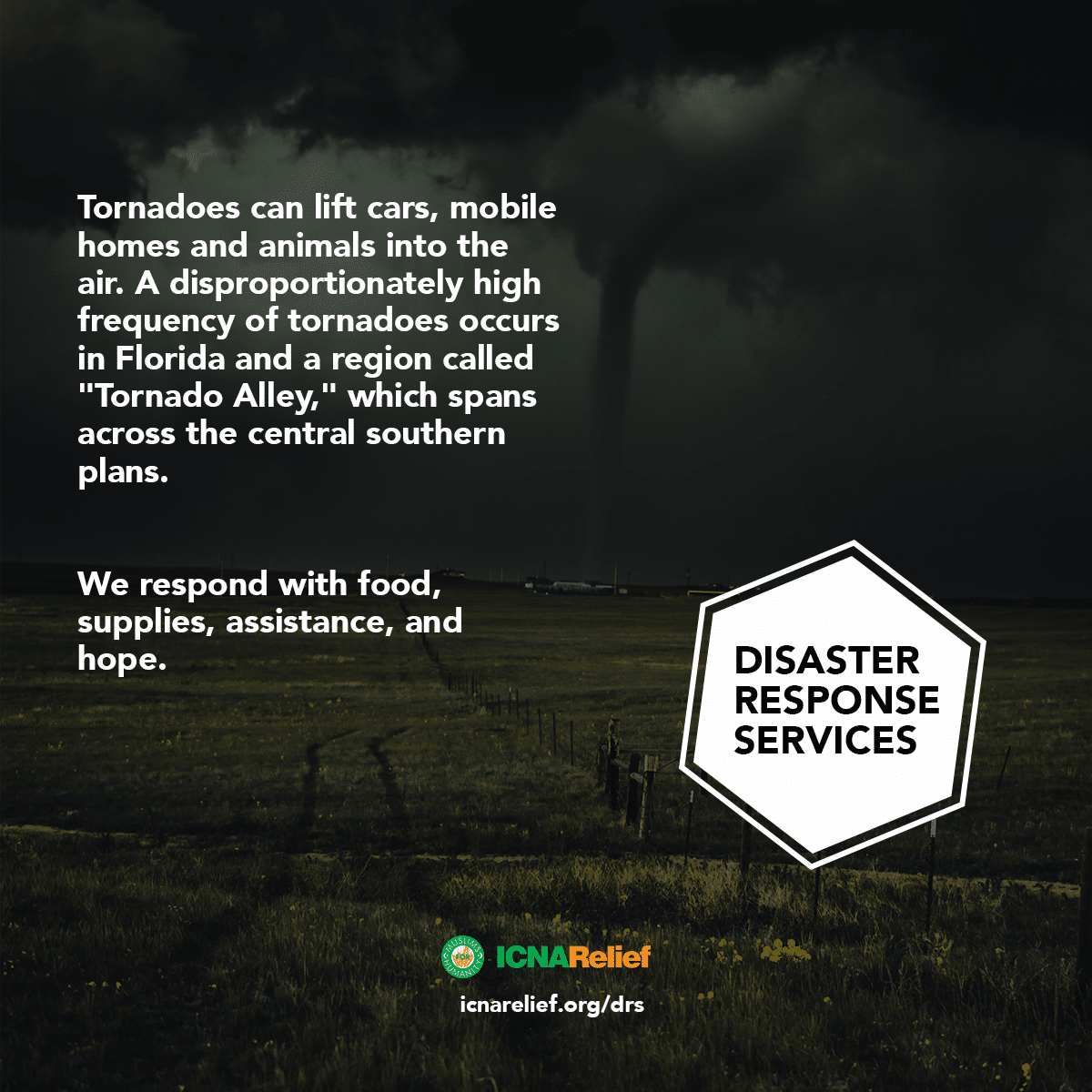 National Muslim Relief Organization Responds to Hurricane Ida 
(New Hyde Park, NY, 08/31/2021) – An ICNA Relief emergency response team will be deployed to the Gulf Coast in the coming days to respond to Hurricane Ida. The storm made landfall yesterday exactly 16 years to the day after Hurricane Katrina devastated the region. This Category 4 hurricane has brought storm surge, heavy rain, and damaging winds.  
"Thousands of families are now dealing with the aftermath of this hurricane and ICNA Relief is ready to meet their most urgent needs," said ICNA Relief Director of Disaster Relief Services Rafiq Mehdi, who is leading the Hurricane Ida response team. "As soon as the storm clears and it's safe to travel, we will begin damage assessments in the hardest hit communities. Many communities along the Gulf Coast are still recovering from last year's storm and will need help." 
ICNA Relief offices and partners had begun to collect emergency essential medicines, medical and food supplies in advance that will now be delivered quickly in this time of crisis. ICNA Relief has professional relief workers and a network of volunteers ready to respond to disasters at a moment's notice and has a long history of responding to emergencies in the U.S. and Puerto Rico.  
ICNA Relief has responded to over 30 natural disasters and continues to establish long-term recovery projects and disaster preparedness programs for vulnerable communities. Since it was founded more than 15 years ago, ICNA Relief has provided more than $1 billion in aid and servicing 28 states to over 654 cities. 
Donations to ICNA Relief Disaster Relief Fund will support its response to the storms. To donate, please click here.
WE ARE ON THE GROUND
HURRICANE ZETA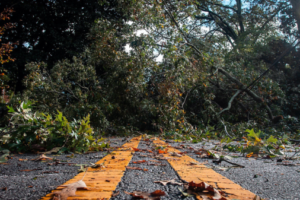 A downed tree blocks a street on Thursday, Oct. 29, 2020, in Decatur, Ga., a suburb of Atlanta. Trees in several areas in and around Atlanta lay broken or resting on sagging power and communication lines, some of which snapped telephone poles. Handwritten warning signs were taped to upside down garbage cans in the middle of one street, while police were out stringing up yellow caution tape on others. (AP Photo/Ron Harris)
Hurricane Zeta Aftermath
Updated August 27th, 2021
Zeta — the 27th storm of the Atlantic hurricane season — made landfall in Louisiana as a Category 2 storm Wednesday before weakening to a post-tropical cyclone by Thursday afternoon. This will be the 5th storm to hit the Louisiana cost this hurricane season. The need to support the survivors are greatly needed in this immediate area as we continue to support those survivors with our ongoing services.
More than 2 million homes and businesses were still without power Thursday evening after Zeta, which came ashore Wednesday in Louisiana as a strong Category 2 hurricane, wreaked havoc across seven states Thursday.
ICNA Relief's Disaster Relief Services Team is prepared and awaiting clearance from local authorities and first responders. Once cleared to enter the affected areas our team will be on the ground withing 24-48 hours to make damage assessments and determine the best way we can assist the survivors of Hurricane Zeta.
The storm ripped off roofs, knocked down power lines and trees and flooded streets as it roared through Mississippi, Alabama and Georgia early Thursday. Heavy rain and winds also pounded eastern Tennessee and the Carolinas throughout the day.
At the height of the outages, more than 2.6 million homes and businesses were without power. In Georgia alone, more than 550,000 customers remained without electricity as of 5:30 p.m. according to poweroutage.us., after the number reached more than 1 million earlier. Alabama had more than 414,000, and Louisiana was reporting about 444,000 outages. More than 300,000 remained without power in North Carolina and South Carolina reported more than 125,000 customers without electricity. More than 55,000 outages were reported in Virginia.
At least six people died in the storm. In Louisiana, a 55-year-old New Orleans man was electrocuted by low-hanging power lines. In Mississippi, a man taking video of the storm in Biloxi drowned at a marina, the Sun Herald reported. In Georgia, three people died after trees fell on their homes. One person also died in Alabama when a tree fell on a home, The Associated Press reported.
ICNA Relief's Disaster Relief Services Team is prepared and awaiting clearance from local authorities and first responders. Once cleared to enter the affected areas our team will be on the ground withing 24-48 hours to make damage assessments and determine the best way we can assist the survivors of Hurricane Zeta.
Please stay tuned as further updates continue to come.
Or, consider DONATING TODAY to help fund our Disaster Relief efforts!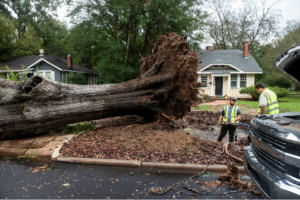 Water works crews fix a broken water line caused by a downed tree on Cloverdale Road in Montgomery, Ala., on Thursday, Oct. 29, 2020. The remnants of hurricane Zeta passed through earlier this morning. Photo Credit: Jake Crandall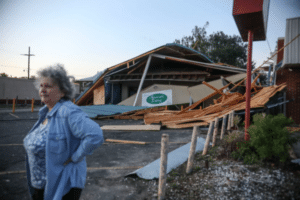 A woman stands in front of a destroyed restaurant after Hurricane Zeta on October 29, 2020, in Chalmette, Louisiana. A record seven hurricanes have hit the gulf coast in 2020 bringing prolonged destruction to the area Photo Credit: Sandy Huffaker / Getty Images
DONATE OR REACH OUT TO DRS
Volunteer Opportunities
Our team is currently on the ground in the areas that have been affected by the tornados.
If you are looking for a way to help, please donate. Your donations will help us continue to help and support victims.
If you would like to volunteer please fill out the form below and someone will reach out when the conditions are appropriate. Thank you for your support!