[vc_row][vc_column width="1/2″][vc_column_text]"It was just an idea. That we have to do something about this." says Halal Halabi. Early during the COVID-19 Pandemic, there was a shortage of PPE everywhere. With unanswered questions about the airborne aspect of this virus, everyone needed masks and healthcare workers were reusing masks. The shortage led CDC to announce mid-March, "In settings where facemasks are not available, HCP might use homemade masks (e.g., bandana, scarf) for care of patients with COVID-19 as a last resort."
The ICNA Relief Dallas Transitional Home has an empowerment center equipped with computers and sewing machines to encourage residents to develop their skills and have a safe space for growth. Hala remembered that one of the new residents at the transitional home mentioned she knew sewing. She also decided to call Reem, a refugee who fled Syria with her family, and was once in this very transitional home. Reem is a fashion designer who creates stunning gowns and bridalwear for a boutique in Texas. Her designs sell at this boutique for several grands. Hala called her for help, and Reem rushed to give back to the community. 
Together with other volunteers and Reem's family, they went store to store to find fabric and elastic needed for the masks. They found nothing. Every store seemed sold out, and many were closed due to the lockdown. 
"We can buy bed sheets. The fitted cotton bed sheets," said Reem. They bought high quality bed sheets, and ribbon instead of elastic, and created the bended nose section with pipe cleaners from the children's craft section! It was truly a DIY mask. Reem taught the volunteers and residents how to cut and sew the pieces together. Each mask had three layers: a cotton layer, a filter, and another cotton layer. 
They announced the project in a small whatsapp group and news traveled quickly. A doctor from Michigan reached out requesting 200 masks, desperately needing them for his medical office staff. They started getting calls from multiple medical offices and hospitals. Healthcare workers were reusing their n95 and in order to protect them, they requested these soft cotton masks. Some of the individuals gave specific instructions: a particular shape, without the filter but the pocket to place in filters, or even specific shades. 
A local community member requested the masks for all the elderly neighborhood individuals who didn't have them. Congresswoman Eddie Bernice Johnson heard of the initiative and asked for masks for her office and staff as well. She even sent a beautiful thank you letter for the ICNA Relief DFW office. Shayhk Omar Suleiman helped deliver the masks to Parkland Hospital.
The team was making so many masks that volunteers set off to get boards to help cut faster and more efficiency.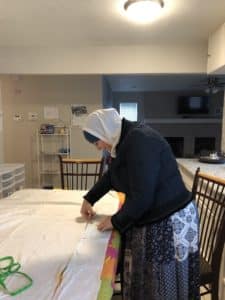 "Reem's husband was in and out to get more supplies, or if a needle broke, he'd run to find an open store to get a back. He was helping pack them and drive out to the various locations that requested them. We even shipped it out to our own offices in Houston and Kansas so the volunteers doing distributions can also use these masks as they go out." Hala was so surprised that this project really gained so much traction and was able to help more people than she had imagined. Many people donated to the project and others donated to the transitional home as well. 
"Dallas News is now doing an entire segment on our transitional home after this project. It's so amazing, what a small idea can do."[/vc_column_text][/vc_column][vc_column width="1/2″][vc_single_image image="27819″ img_size="full" alignment="center"][vc_empty_space][vc_custom_heading text="A doctor from Michigan reached out requesting 200 masks, desperately needing them for his medical office staff." font_container="tag:h5|text_align:center"][vc_empty_space][vc_single_image image="27818″ img_size="full" alignment="center"][/vc_column][/vc_row]