In the arid drylands of Arizona are its original inhabitants, the various Native American tribes. The coronavirus pandemic has caused an enormous amount of food shortages across food banks in Arizona. This is an even more dire problem across the "food desert" areas of the Arizona Native American population, especially the Navajo Nation. As the virus spreads, the Navajo Nation has become the epicenter of the disease as the numbers of cases increase and food shortages in the area compound the problem.  
ICNA Relief was able to create accessible food pantries and deliver food boxes to these tribes. They spent over $30,000 to gather essential food items such as rice, flour, oils, pasta, pasta sauce, baking powder, salt and more. The facebook fundraiser for water raised about $2,800, allowing them to distribute about 15 pallets or 4,050 gallons of water to the underserved tribes.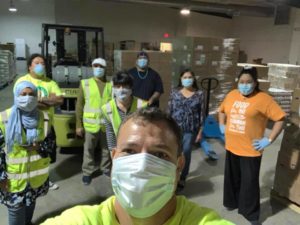 With efforts like these, in-kind donations of resources is tremendously helpful. ICNA Relief thanks Mohammad Elengery and his wife Yomnna for lending their 54 ft., eighteen-wheeler for these large shipments. Without this resource, ICNA Relief would have spent a few grand on renting a vehicle that was large enough  or taking multiple trips to ship this much food.
The team drove out for about 3 hours and reached Tuba City, which was a red zone for the coronavirus, therefore they stayed inside the truck and members of the community came to pick up the boxes. There were no restrooms so the volunteers really sacrificed themselves in order to finish the relief effort for the day but the community was so appreciative.
In the past weeks, they also did a distribution in White Mountain for over 173 families. These families received the essentials and perishables like bread, fresh vegetables and fruit. There were other distributions in Yuma City to Cocopah and the Quechan tribe. Some of these distributions also included dairy products. ICNA Relief also assisted the Hualapai tribe in Valentine, AZ and provided boxes for around 100 families.
All of these efforts were due to the generosity of donors and local community members. ICNA Relief thanks Thanh Jakwani, Ayesha Hussein, Rumee, Sadia, Hafsa and their friends for their time. The Vice Mayor of Arizona, Lauren Kuby, has been an avid supporter for ICNA Relief's initiatives in these communities, even making her own facebook fundraisers to help with gas for transportation, and hygiene items. The local leadership, like the Cocopah Tribal Council Member Rosa Long, Quechan Tribe Council Member Charles R. Escalanti and Anthony Allison from the Navajo nation along with Kyle Jim and Briana COVID-19 Relief coordinators made all of these travels and distributions possible.