Originally published on April 1st, 2020
As a well established nationwide non-profit, ICNA Relief has made great strides during this COVID-19 pandemic. Due to the various state lockdowns and stay at home orders issued by our government, many families have been unable to travel outside for groceries and essential items they may need on a daily basis. ICNA Relief staff and volunteers created the initiative "Doorstep Deliveries"with no contact. Beneficiaries simply call the regional office requesting specific items from the pantry and ICNA Relief staff creates boxes or bags to fit their needs. Volunteers then go to the recipient's home, ring the doorbell, and walk away to ensure no contact. Prominent local community members have joined this initiative; pictured here is Shaykh Yaser Birjas delivering a box in the Dallas area.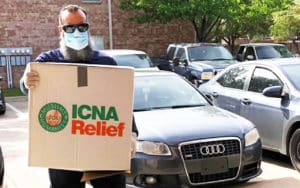 Some of the boxes for doorstep deliveries include ten pounds of basmati rice, flour, sugar, oil, pasta, cereal, milk, eggs, meat, and toiletries. Many of the recipients are refugee families, elderly couples, and members of underserved neighborhoods.
The gratitude and need of the community can be summed up through the words of an elderly recipient, "I am a patient with lung disease. My caretaker did not come to help me for the last two days. I was worried to death as I was running short of food."
Additionally, ICNA Relief has introduced "curbside pickup" where clients may drive up to a specific location and pick up groceries and supplies without needing to leave their vehicle. One particular video, highlighting this initiative, received a bit of traction on social media, reposted here. This is an extension of their "Mercy on Wheels" program, where volunteers go to a specific gathering space and give hot meals to the homeless.
Working around the clock in over fifty cities, many of the regions are collaborating with local organizations, members of their city council, and masjids to gather more goods and increase their outreach. ICNA Relief in Pennsylvania worked with Councilman Bobby Hennon to deliver diapers and baby formula along with cleaning supplies for mothers in need. ICNA Relief in the Southeast Region, worked with local churches to deliver adult diapers, fresh fruits, vegetables, eggs, milk, and bread to a nursing home and a temporary housing facility. They also collaborated to give flowers to nurses as a gesture of gratitude for their services during this COVID-19 crisis.
ICNA Relief has been at the frontline nationwide, giving to those in need through financial support and home goods. As the COVID-19 crisis continues, many more families will be affected and in need of the important services that ICNA Relief is providing.