Originally published April 8th, 2020
Amid the constant news surrounding the COVID-19 pandemic, a team of doctors and volunteers at ICNA Relief are working hard to correct misinformation. As a non-profit committed to serving diverse communities, ICNA Relief has produced informational pamphlets in multiple languages, containing health and safety guidelines from CDC (Centers for Disease Control and Prevention). Early on, before the shelter-in-place order, these pamphlets were distributed in local mosques and community centers. 
ICNA Relief quickly saw the need of being a voice of comfort and guidance and created the ICNA National Helpline. The helpline offers help in multiple languages: Spanish, Urdu/Hindi, Arabic, and Bengali. This enables new immigrants, refugees, and elderly non-English speaking individuals to navigate this pandemic through inquiring about financial assistance, unemployment, and insurance.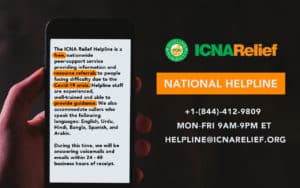 As the healthcare systems are overwhelmed with hospitals at capacity, and the added fear of contracting COVID-19 in an emergency room, many people do not know where to turn. ICNA Relief Health Services has deployed a Telemedicine line so that individuals may speak with a nurse or doctor to see if their symptoms entail the ER visit or if they may be indicative of a seasonal cold. In order to address the community on a more general platform, there have been several webinars hosted by the physicians involved with ICNA Relief in order to give up to date information about the virus, what they are seeing in the frontline, and address the concerns or rumors spreading regarding it. 
This pandemic comes with a surge in the need for psychosocial help, thus, hand in hand with telemedicine, the health services team has developed lines for tele-therapy in specific states. ICNA Relief has free health clinics in seven cities across the states: Mount Pleasant, SC, Anaheim, CA, Athens, GA, Duluth, GA, Philadelphia, PA, Oklahoma City, OK, and Dallas, TX. Tele-therapy allows the clients who come to the clinic to continue their mental health treatment through counseling sessions over the phone.
ICNA Relief also used this time to support the healthcare workers, many of whom do not have proper personal protective equipment (PPE). The women residing in ICNA Relief Dallas' transitional home stitched reusable masks which were delivered to Baylor Hospital in Irving, TX. Pictured here is Julie Tosh, the Executive Assistant of Baylor Scott & White Medical Center-Irving and Zahid Hussain.
The nurses at Ochsner Medical Center in New Orleans, LA were surprised and thankful for the delivery of fresh flowers from ICNA Relief donated by local church members. Many of the ICNA Relief branches have also distributed hot meals to the ER doctors and nurses. 
In New York City, currently the epicenter of this pandemic, ICNA Relief collaborated with the Latino Muslims of NY to deliver hot meals to Montefiore Hospital in the Bronx, and Mount Sinai Hospital in Queens. In Atlanta, GA, volunteers delivered more than 250 hot meals at Emory Johns Creek Hospital and in Sacramento, CA, the team did the same at the Methodist Hospital.
As the potentially airborne virus continues, ICNA Relief is continuing outreach to help as many hospitals, institutions, shelters, and individuals as possible. From educational resources to hot meals on wheels, ICNA Relief is fulfilling a crucial need here in the states.