R E F U G E E
S E R V I C E S
Key Contact
Refugee Services Offered in these Locations
Washington
Texas
New Jersey
New York
Arizona
Georgia
Illinois
Michigan
Pennsylvania
Florida
California
Mission
ICNA Relief USA seeks to alleviate human suffering by providing caring and compassionate service to victims of adversities and survivors of disasters. ICNA Relief USA strives to build healthy communities, strengthen families and create opportunities for those in despair while maintaining dignity and advocating for basic human needs.
Our objective is to assist new arrivals and refugees to settle into American society as soon as they can through empowerment and assistant programs. It is our goal and wish that they become a valuable member of the American mosaic as soon as possible.
ICNA Relief has provided refugees in the US, who face cultural and language barriers to employment, with opportunities to obtain jobs and training and improve their English language skills. This program promotes self-sufficiency. Services include employment placement, English classes, our Fast Track job readiness preparation, transitional and work support and case management to remove barriers to employment.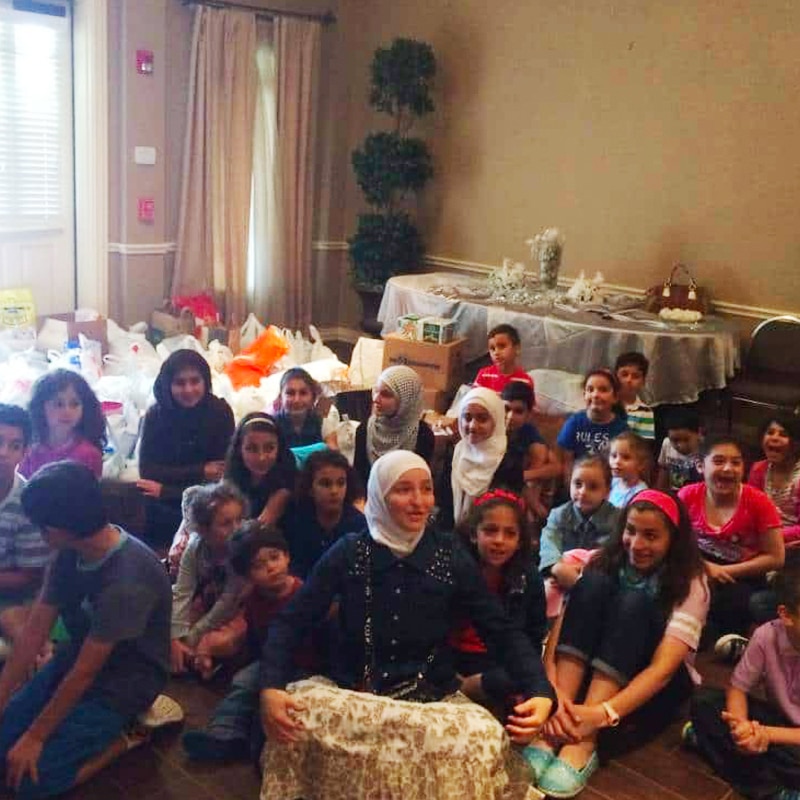 Welcoming New Arrivals
Preparing For Their Arrival
Our work begins even before the arrival of the refugees. We start by preparing welcome packages for them. We contact the resettlement agencies to gather information regarding the size of the family, the ages of the children, and anything else important that might help us best prepare for their arrival.
Each welcome package typically includes:
Pillows
Sheets
Towels
Blankets
Kitchen supplies (crockery, utensils, pots and pans)
Cleaning supplies
Food
Furnishing Their New Home
At ICNA Relief we do our best to get all necessary furniture ready for the refugees To do this, ICNA Relief either sponsors the refugees as they directly arrive or we visit after they arrive to deliver to them the necessary furniture they may still need. When sponsoring our refugees, we provide furniture such as beds, mattresses, dining tables, chairs, sofas, and more. By sponsoring them, we save them a good amount of money that they receive from the government, called welcome money, which they can instead use to help them through their first few weeks while settling in and finding a job.
We frequently run campaigns to collect all necessary items through our generous communities. To participate in a campaign near you, contact us today!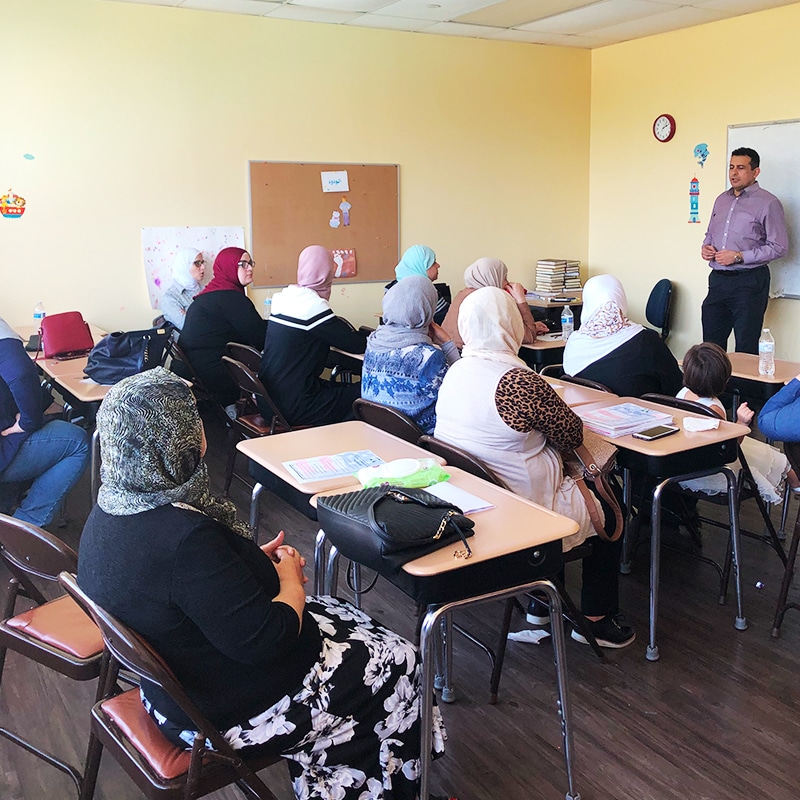 Empowerment Services
Mental Health Support
Since most of the refugees go through a lot of trauma and hardship before they arrive here they will definitely need mental health care. Our counselors start their job by visiting the new arrivals and listen to their problems and design a special program to fit their situation. Some families need one to one sessions while others can attend general sessions.
Entrepreneurship Program
One of the most important projects that ICNA Relief does is help refugees to start their own businesses and become self-sufficient. In the past few years we distributed over 100 sewing machines to several families, we bought hair salon furniture for a number of refugee ladies, helped a few start their own catering service, offered tools for handymen to start painting business and others to start mowing business, and offered supplies to several teachers to start tutoring. We also assist in advertising their businesses.
Our plan is to keep providing the refugees with the tools they will need to achieve their dreams and have their own businesses.
Food and Groceries
Throughout our network of food pantries, we distribute thousands of pounds of food every week to the refugees. Before the arrival of the families, our ICNA Relief teams fill the pantries and fridges, then we register them in the food pantry so they can come and collect food when they need it. Amount of food depends on the severity of the case and the size of the family.
Winter Apparel and Clothes
In the beginning of September ICNA Relief teams start the campaigns for winter clothes, shoes and blankets. We collect the brand new clothes from our donors then separate them into different ages group and then go distribute them between the refugees with the blankets. Most of the time students from different schools sponsor this project. Last year, ICNA Relief distributed winter clothes and blankets to over 1000 refugee families.
Additional services we provide:
ESL classes
Resume building
Computer and other skills development
Free health care through our clinics
Translation assistance
Transportation (vehicle donations)
Various workshops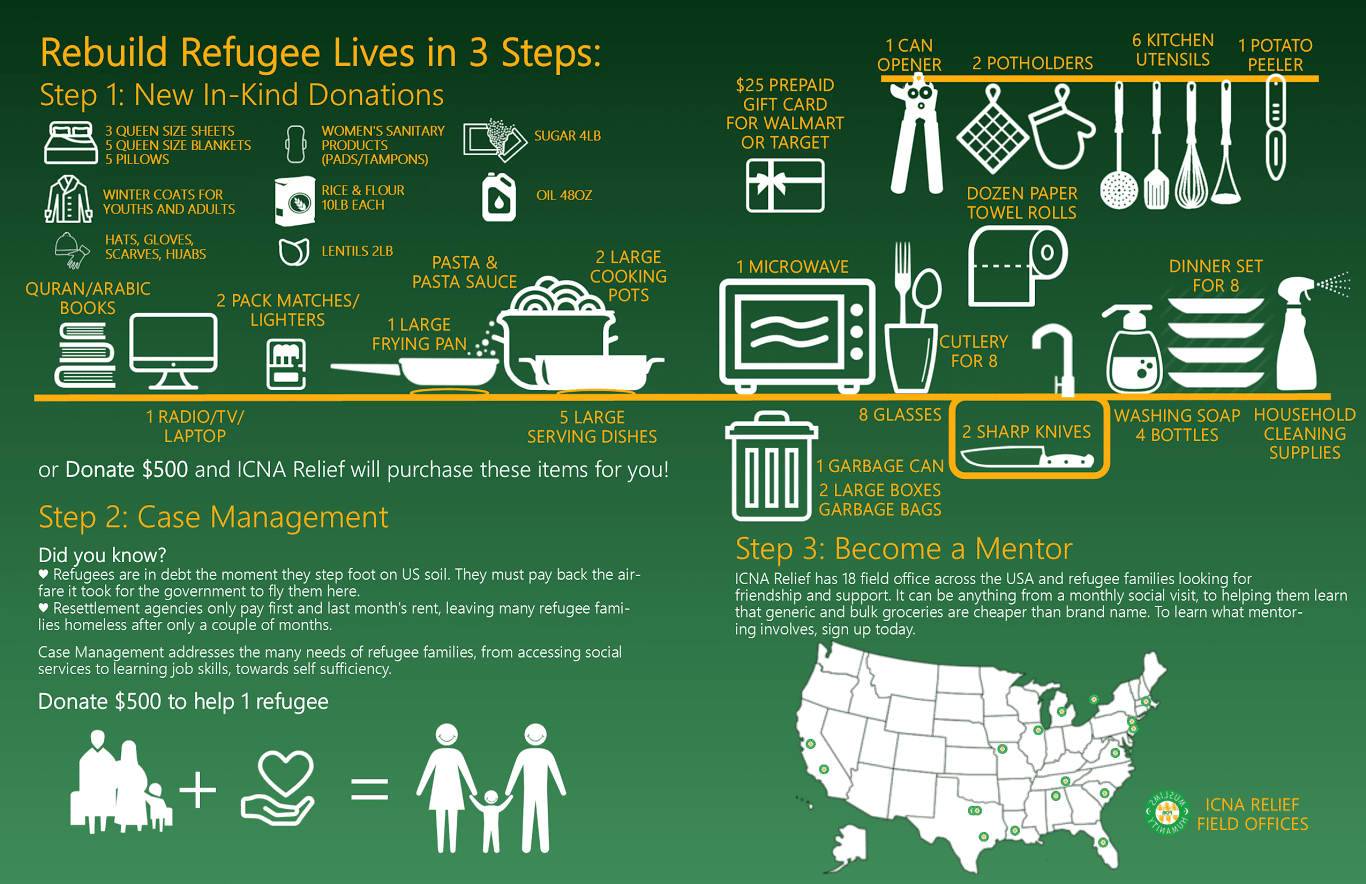 How Can You Help?
Sponsor a Refugee Family
– $1000 a month can help a single mother with rent, food, and taking care of her children
– $400-$500 a month will assist a family with rent and food
– $500 a month can provide case management for these struggling families
– $300 a month, in addition to helping with food, will also help in household items like cleaning and hygiene supplies
– $200 a month can help a family with food
To sponsor a family, click the donate button above.
Become a Mentor
ICNA Relief has chapters all over the US that assist with refugee facilitation. In addition to financial assistance and empowerment services, many families simply are looking for a friendly face, a friendship, a mentor. This can consist of anything from monthly social visits, advice on how to navigate the school systems, or sharing recipes. These are families that have left everything behind to start a new, better, life in this land. Let's be that helping hand and that friendly face.
To learn what mentoring involves, contact us today!