OUR SERVICES

How many times have we seen heartbreaking signs like this and said to ourselves, "I wish I could do something for this person"? Well, now we can!
According to HUD, there are approximately 35,000 homeless people in the Bay Area. In San Francisco, estimates put the number between 7,000-15,000, which is the highest per capita rate of homelessness in any major American city.
On the Stress of Being Homeless
"Are we going to wake up in the morning? Are we going to wake up in the morning and have to move our stuff? Are we going to get food for the day?" These questions haunt all homeless people everyday.
Our Services
Since 2007, the local chapter of ICNA has been in the forefront of serving the most-needy across the Bay Area with nourishing hot meals. The food is cooked fresh in the morning, carefully packed in single serving boxes, and delivered in a truck – equipped with food warmers, to places where the homeless people gather. Once there, it serves as a brick-and-mortar soup kitchen, serving the people with a smile. We call it MERCY ON WHEELS.
Our volunteers gather every other Saturday to serve 700+ needy people. The below diagram provides a visual representation of the overall process from start to finish.

The Smile​
Living in the street brings a lot of uncertainty, helping them to ensure one of these challenges even for one day changes their day into a happy moment. You can see this in the smile of relief on their faces. Mercy On Wheels is not just feeding them a meal but making their day little bit better.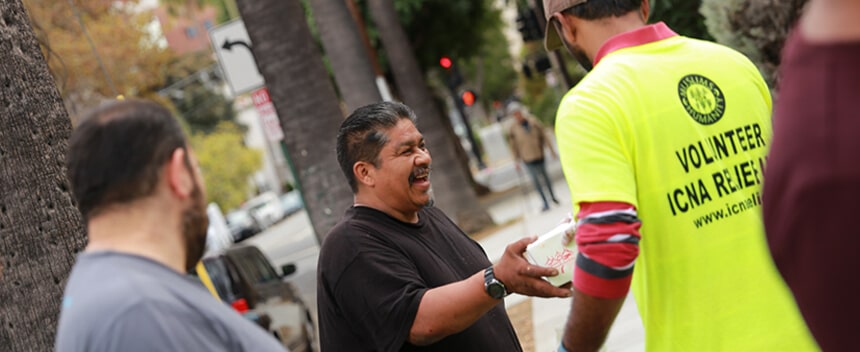 Your Support
"What actions are most excellent? To gladden the heart of human beings, to feed the hungry, to help the afflicted, to lighten the sorrow of the sorrowful, and to remove the sufferings of the injured." – Tabarani
Your support is critical to continue and increase our efforts to serve the most-needy of our community.
We've Made Significant Strides; Help Us Reach the Finish Line!
Thanks to your contributions last year, we were able to make significant strides towards our goals. This Ramadan, help us support the operational cost of the Mobile Clinic, and be a part of something spectacular! Where do we stand currently?
Alhamdulillah, we've acquired the truck, which serves as an exam room for patients and is fully equipped to provide the general checkups and basic care so many desperately need.

We've brought aboard and hired a highly-qualified employee to oversee the operation of the clinic.

We're navigating and clearing many legal regulations to make sure we are working not only with excellence in care, but also transparently and in regulatory compliance
The Idea
ICNA's mobile health clinic started with a sad realization: The Bay Area community has a sizable, largely forgotten, segment of society that cannot afford healthcare. This causes them to go through cycles of preventable hardship and suffering; not only does this affect their health and quality of living, but also their families, dependents, and work places. And the damage doesn't stop there: This in turn causes greater stress on the local health care infrastructure as they have to deal with a greater influx of emergency cases, which are again preventable.
To understand how best to address this 'snowball effect' problem in a God pleasing way, time was spent to study and understand the needs of the affected community, the current solutions in the market (most of which were for-profit), and the charitable models vividly present in the prophetic tradition. Over the course of this evaluation and reflection process, the consequent solution become increasingly obvious: Invest early in this vulnerable segment of society.
Our Services
Launching in 2017, the Mobile Health Clinic will compliment ICNA's 'Mercy On Wheels' program by making scheduled rounds in the Bay Area with the best doctors from our community, providing:
Primary health care

Physical examination

Diabetes/blood pressure screening

Lab work
As funding and volunteer staff grows, we can increase our services to provide:
Seasonal vaccinations and immunizations

Dental health care

Behavioral health care

Specialties (Pediatric, STD, OB/GYN, Cancer, etc)

Starting a mobile clinic fleet
Your Support
Making sure this great initiative takes off will need much more than market research and great planning. We urgently need your support for:
Maintenance/Operational costs

Insurance (malpractice, coverage for volunteers, vehicle)

Medical records hardware/software

Inspection and certification

Lab reports
The Idea
Imagine you have just entered third grade, and it's your first day of school. Bright eyed and excited, you take up a desk in the classroom, and listen intently as the teacher gives out the first task. Ready to get started, you open up your hand-me-down backpack, only to find you don't have the basic supplies needed to carry out the task.
A child who finds themselves in such a situation will naturally be embarrassed, even disheartened, their studies may suffer, and they may even face bullying all because their family cannot afford adequate school supplies.
Our Services
Knowledge is a power, diametrically opposed to wealth, which provides protection, and does not need it. Children that have the tools they need early on, to get a good education, will be more motivated to learn and in a better position to bring their families and communities out of darkness.
Your Support
Through your donations, we provide kids with a backpack full of basic school supplies, to enable for them equal opportunity and access to learning like their better-off classmates.
ADDRESS
2086 Walsh Ave, Ste. A
Santa Clara, CA 95050
CONTACT US
ICNA Relief Bay Area California
PH: (408) 313-8792
Fax: (408) 588-1566​
Email: info@icnabayarea.org