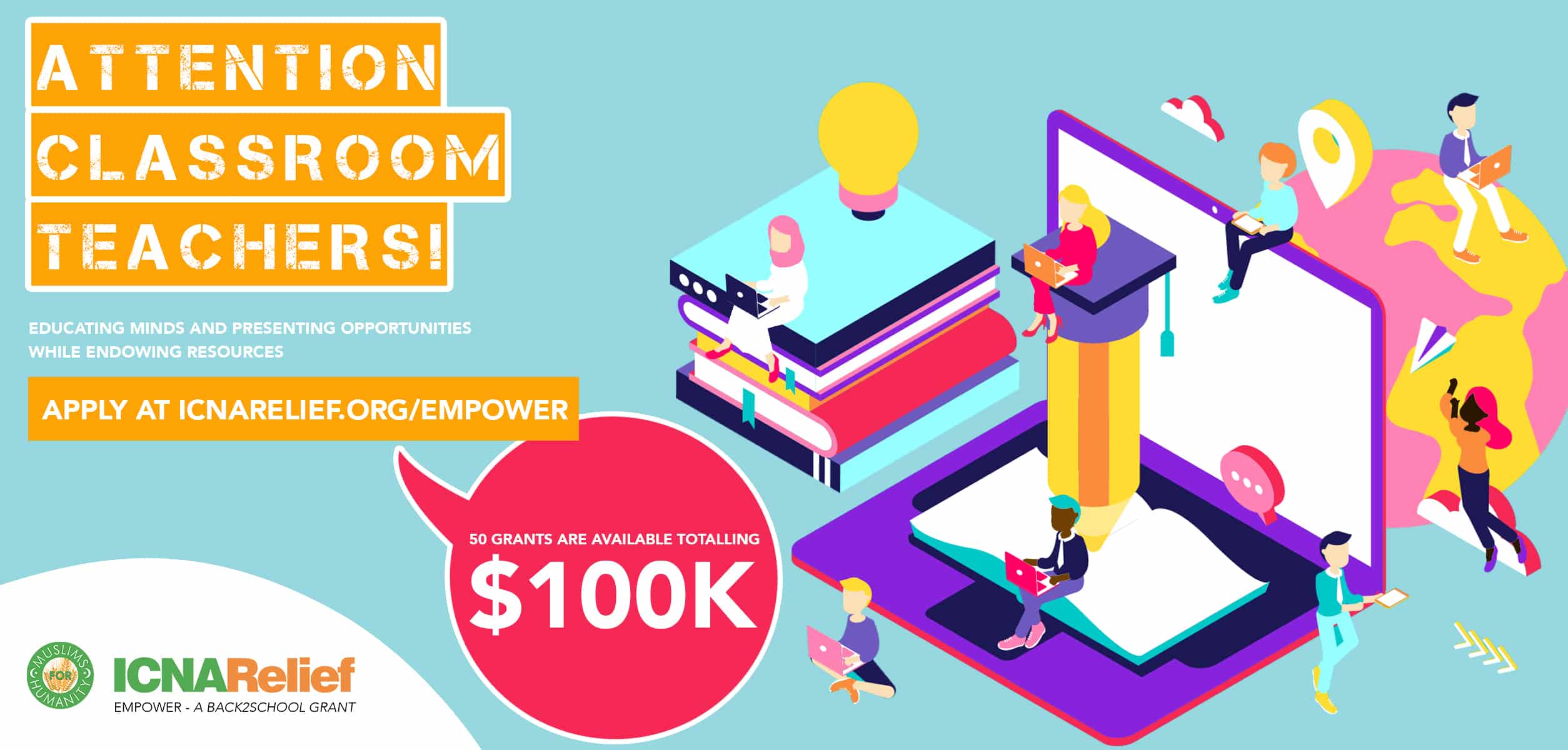 EMPOWER
Educating Minds and Presenting Opportunities While Endowing Resources
A great teacher creates a legacy of great students. They are the backbone of the education system, but they are often overlooked; statistics show that new teachers rarely remain in the profession beyond their first year, and yet few education improvement programs are aimed to support them. 
There are student support programs, parent support programs, hunger prevention in-classroom programs. Where are the teacher support programs for at-risk communities? In addition to their already difficult task of juggling low budgets, high stress, and poor working conditions to create a learning environment that allows their students to flourish, teachers in neglected communities now have to juggle teaching while social distancing. Due to COVID-19, these educators create virtual classrooms with minimal training, abysmal tools, and limited funding. 
A student's success can be traced directly to the state of their teachers. ICNA Relief has created the EMPOWER grant to empower teachers so they have the means to form a legacy of great students both in the classroom and virtually. 
Meet the Panelist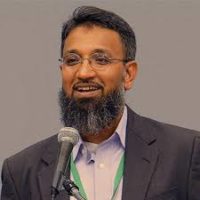 Altaf Hussain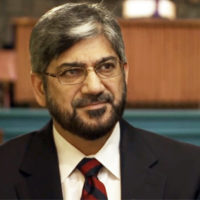 Naeem Baig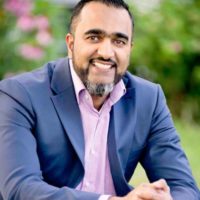 Habeeb Quadri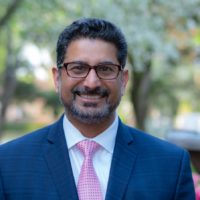 Azam Nizamuddin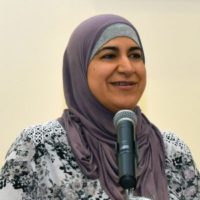 Leila Shatara
Read Their Bios
Dr. Altaf Husain
Altaf Husain serves as an Associate Professor and Chair of the Community, Administration, and Policy Practice concentration in the Howard University School of Social Work, in Washington DC. He has primary teaching responsibilities for the Displaced Populations field of practice specialization, which includes social work practice with immigrants and refugees. He holds a joint appointment as a Research Fellow in the Center for the Study of American Muslims and the Center for Global Health at the Institute for Social Policy and Understanding in DC.
Dr. Husain received his Ph.D. in Social Work from Howard University and his M.S. in Social Administration with a specialization in Community Development and Non-profit Management from the Mandel School of Applied Social Sciences at Case Western Reserve University in Cleveland, Ohio. His research interests include displaced populations (homelessness, victims of disaster, immigrants, and refugees), mental health and psychosocial well-being of adolescent immigrants and refugees of color in the U.S.; immigration policy and its impact on the family; cultural competence; and the development of social service agencies in the Muslim community. An invited lecturer on Islam and Muslims in the US, Dr. Husain has delivered keynote addresses on college and university campuses and communities throughout the US and Canada.
His professional involvement includes serving as a co-chair of the Islam and Muslims track of the Annual Program Meeting of the Council on Social Work Education (CSWE), co-chair of the Race, Ethnicity and Immigration cluster of the Society for Social Work and Research (SSWR), and as a founding member of the CSWE Religion and Spirituality Working Group. Dr. Husain's community involvement includes serving as Vice President of the Islamic Society of North America (ISNA), Vice President of the Yaqeen Institute for Islamic Research (YIIR), and a former national president of the Muslim Students Association of the US and Canada. He also serves as an advisory board member of the Peaceful Families Project (PFP), dedicated to preventing domestic violence.
Naeem Baig 
Mr. Naeem Mohammad Baig is former President of Islamic Circle of North America, ICNA, and currently, he is Director of Interfaith Alliances and a member of the National Board of the Islamic Circle. He serves as Director/Imam of Outreach and Interfaith Programs at Dar al-Hijrah Islamic Center.
Naeem Baig serves as the co-chair of the 'National Muslim-Christian Initiative'. He also serves as the Muslim Coordinator for the 'Catholic-Muslim Mid-Atlantic Dialogue'.
Mr. Baig is National Moderator for 'Religions for Peace USA'. He is a member of the board of 'Interfaith Workers Justice".
He is the founder of 'International Interfaith Cooperation for Religious Freedom'. He is a student of Islam and his focus is on human rights, religious freedom, and social justice. He regularly gives Friday sermons at various Islamic Centers and gives talks at Islamic and Interfaith conferences.
He serves as a volunteer Chaplain at hospitals and has successfully completed 3 Units in Clinical Pastoral Education.
Habeeb Quadri
Recently, he was recognized in Washington, D.C., with a National Distinguished Principal award from the National Association of Elementary School Principals. Quadri, who was promoted from principal to superintendent at the beginning of 2019, was one of just five private school educators who received the honor nationwide.
Habeeb Quadri is an Educator, Author, and Youth Activist. He is an Elementary School Principal and part-time staff at Harvard Graduate School of Education professional development programs. Habeeb recently was appointed to a four-year term at the Harvard Graduate School of Education Principal Advisory Board. He has co-authored five books and published two others. Habeeb is board chair of MYNA (Muslim Youth of North America) and board member of CISNA (Council of Islamic School of North
America).
Consulted for US State Department, International Ministries, Universities, Public and Private School
Lead Religious Sensitivity Training Workshops
Training Educators through Workshops
Former Dean Advisory Board for the College of Education for DePaul University
National Advisory Board for the Muslim Youth of North America (MYNA)
Specialties: Leadership, Teacher Training, School Improvements, Cultural and Social issues pertaining to Religious Sensitivity, Publishing, Religious outreach workshops in the Public Sector
Azam Nizamuddin
Azam Nizamuddin is General Counsel of the American Trust Corporation – NAIT and
Chief Compliance Officer of Allied Asset Advisors, where he oversees the legal department.
Previously, Mr. Nizamuddin has worked for 18 years as a litigator for D'Ancona & Pflaum,
Regas, Frezados and Harp, and as a solo, advising companies and individuals in the areas of
general liability, commercial litigation, shareholder disputes, real estate, employment, and family
law.
He is a member of the DuPage County Bar Association, the Association of Corporate
Counsel, and the Muslim Bar Association. He is the Chair of the Civil Law Section of the
DCBA and the former Editor in Chief of the DCBA Journal, the Brief.
Mr. Nizamuddin has given CLE credit courses for the DuPage County Bar Association
on Risk Management for public companies, Preventing Sexual Harassment in the Workplace,
and the Pitfalls of Employee Termination and has provided presentations to the Cook County
Circuit Court, the Illinois State Bar Association, and the American Bar Association.
He is also a candidate for Circuit Court Judge in DuPage County.
He can be contacted at:
Azam Nizamuddin
847-212-5459 (c)
azamnlaw@gmail.com
www.azamforjudge.com
Leila Shatara
Leila H. Shatara, M.Ed. is a PhD candidate in Educational Leadership and Research Methodology (ELRM) at Florida Atlantic University (FAU). She is currently the Head of School at Noor-Ul-Iman School in New Jersey. She has been an educator for more than 20 years in both public school and Islamic school leadership and led several schools to their initial accreditation. She has taught at all levels of the educational spectrum from preschool to the university level in her 20-year tenure. Her leadership roles currently include President of the Council of Islamic Schools in North America (CISNA), Chair of the ISNA/CISNA Education Program Committee, Advisory Board member of the Youth Coalition of South Florida and Vice President of Florida Islamic Schools Association.
In her capacity as an educational consultant, she works on board development and training, principal coaching and mentoring, and teacher professional development. Her areas of expertise include school wide assessments of operations and programming for Islamic schools.
She served as a research assistant and adjunct instructor for 6 years at FAU in both the Educational Leadership & Research Methodology and Curriculum, Culture, And Educational Inquiry (CCEI) departments. Her conference presentations (AERA, UCEA, FRA) and publications include topics on cultural competence in school leadership, effective leadership, Islam and public education, Muslim students in public schools and Islamic school education. The most current publication is Understanding the Muslim Voice in a Pluralistic Society: The case for Islamic schools published in The International Journal of Educational Reform. She was recently designated a national Clark Scholar in 2018 for educational leadership and administration and PEO Women's Scholar finalist.
Available Awards  
The number of classroom grants awarded will depend on the total number of applicants. Grants are available for up to $2,000, pending availability and demand.  We anticipate that we can award 50 recipients.
Classroom Grant Funding Options  
Classroom grants can be used for projects and materials relating to the core subjects (Science, Literacy, Math, Art, Physical Education, Social Studies). Supplies include but are not limited to, the purchase of books, software, calculators, math manipulatives, art supplies, audio-visual equipment, and lab materials. 
Application and Evaluation Criteria
Each application will be evaluated by a panel of experts and given a value out of

32

 points. Applications will be evaluated based on the following:

Impact of meaningful instruction on students inside and outside the classroom (+6 points).

Funds will be used to develop an impactful and innovative experience for students (+6 points).

30-120 seconds video (+10 points). *optional points

Letter of recommendation from school (+10 points).
Eligibility 
Any certified elementary/middle school teacher at a public or private school

will be considered. If you do not see your school accurately listed in their database, please contact our staff at back2school@icnarelief.org to let us know.

Certified to teach in all 50 states

Must agree to and follow ICNA Relief Terms of Use to apply and receive funds.

Applications are on a first-come, first-served basis… so apply early!
Application Dates
Applications are due by August 20, 2020.   *NEW DEADLINE: August 25, 2020*
          Within one month of receiving the award, classroom leads must submit a one-page report on the use of funds and its impact. 
Disclaimer/Waiver of Liability
ICNA Relief does not assume any responsibility or liability for the misuse of products or services purchased with the funds from this grant. This grant aims to empower students and teachers in the classroom and at home to achieve greatness through education. Please act responsibly.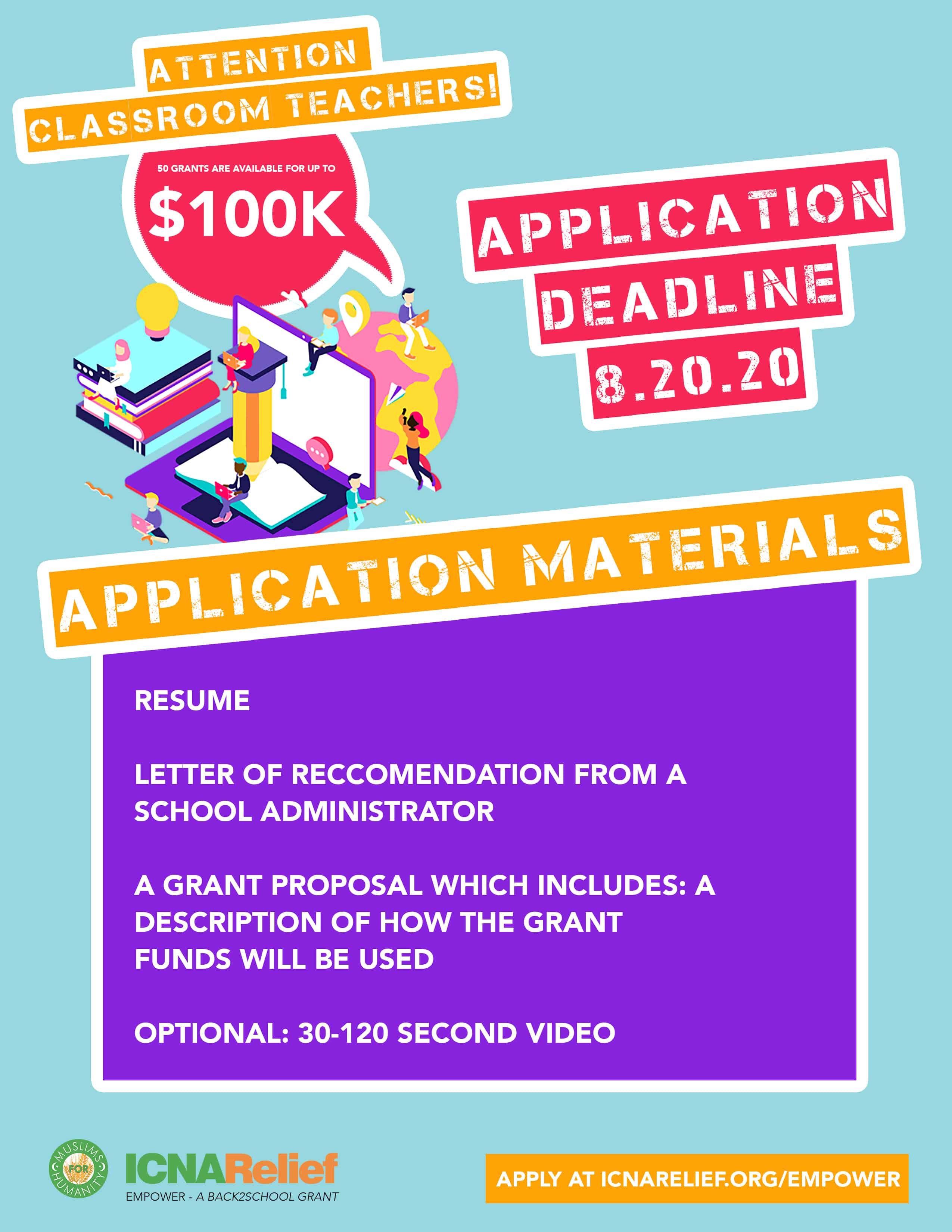 After you've read about the grant and its terms, please click the button for application.